Ethno-vegan - Italy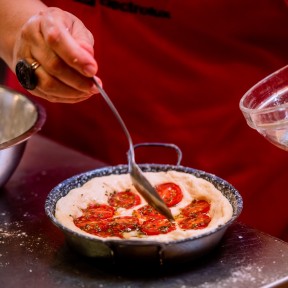 Duration: 3 hour
Number: 10 person
Difficulty level:
Use of ingredients:
Cultural depth:
Language: Hungarian
Becoming vegan has become a huge trend in Europe over the last few years, leaving behind the "holy trinity" of meat-eggs-dairy, which our Western culinary culture is built upon. Although it is challenging to find a great vegan cuisine on our continent, Mediterranean Italy is an expection. Our ethno-Italian menu has a good variety of vegetables, delicious sauces and of course homemade pasta and bread. Let's take a vegan journey to Italy: from South Tyrol through Tuscany all the way to Sicily.
MENU
Gerstensuppe / Pearl barley & vegetable soup
Focaccia barese / Italian flatbread, cherry tomatoes, oregano
Pici alle briciole y al sugo pomodoro / Pici pasta, roasted breadcrumbs, tomato sauce
Caponata / Sicilian eggplant ragout
Sorbetto di limone / Lemon sorbet
DATES
Unfortunately there are no dates available.
COURSE REMINDER …
Notify me if this course is being published at another time or a place becomes available.
HASHTAGIFY