The World of Steaks - tenderloin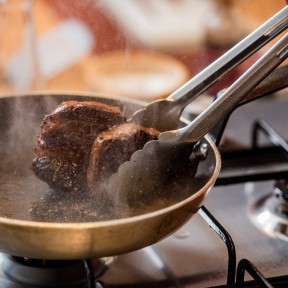 Duration: 3 hour
Number: 10 person
Difficulty level:
Use of ingredients:
Cultural depth:
Language: Hungarian
"The World of Steaks - Red Meats" is the most popular course in Chefparade history. We can hear the message loud and clear: many of you would like to welcome red meat in your kitchen, but maybe you are a little afraid of how to clean, cut and cook properly. We are here to help! Our meat master chefs will show you the difference between raw, rare, medium and well-done steaks, and we won't forget the sauces and sides, either.
MENU
Steak tartare, toasted bread
Tataki / Japanese grilled beef, ponzu sauce
Beef tenderloin, Café de Paris butter, steak potatoes
DATES
Unfortunately there is no available occasion.
COURSE REMINDER …
Notify me if this course is being published at another time or a place becomes available.
HASHTAGIFY