The World of Steaks - surf and turf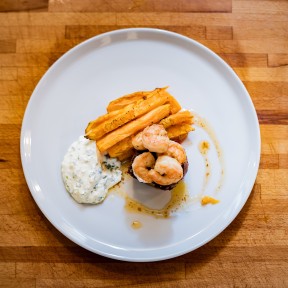 Duration: 3 hour
Number: 10 person
Difficulty level:
Use of ingredients:
Cultural depth:
Language: Hungarian
Surf and Turf might be a newbie on our spectrum but it has been around for quite a while now. Back in the '60s a restaurant owner decided to combine the two most expensive dishes on the menu to create a new item in which the flavours of the sea and the land work together in perfect harmony. Fresh prawns and juicy steaks, it does not get any better than this, or does it? We added an insanely good ceasar salad and a heavenly brownie to the menu.
MENU
Steak Ceasar salad
Grilled tenderloin, shrimp skewer, garlic-lemon dip, grilled veggies
Brownie, salty caramel sauce
DATES
27 October 2022
- Thursday
18:00 - 21:00
Bécsi út
30 October 2022
- Sunday
10:00 - 13:00
Bécsi út
05 November 2022
- Saturday
10:00 - 13:00
Bécsi út
COURSE REMINDER …
Notify me if this course is being published at another time or a place becomes available.