The World of Steaks - Red Meats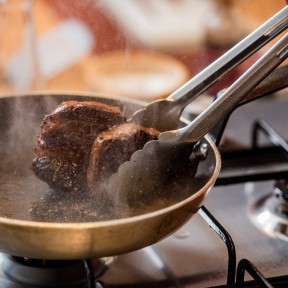 Duration: 3 hour
Number: 9 person
Difficulty:
Language: Hungarian
2 person / course = 28.990,-
4 person / course = 49.990,-
"The World of Steaks - Red Meats" is the most popular course in Chefparade history. We can hear the message loud and clear: many of you would like to welcome red meat in your kitchen, but maybe you are a little afraid of how to clean, cut and cook properly. We are here to help! Our meat master chefs will show you the difference between raw, rare, medium and well-done steaks, and we won't forget the sauces and sides, either.
MENU
Steak tatar , toasted rye bread
Pork tenderloin mignons, roasted vegetables, bacon-wrapped french beans
Cafe de Paris Butter
Beef tenderloin, 'café de paris' butter, cognac green pepper sauce, steak potatoes
ALLERGEN INFORMATION
Please advice us on any food allergies or intolerance you might have.
DATES
12 December 2020
- Saturday
10:00 - 13:00
Bécsi út
12 December 2020
- Saturday
15:00 - 18:00
Bécsi út
IF THE DATE IS NOT SUITABLE …
Notify me if this course is being published at another time or a place becomes available.
HASHTAGIFY