Surf and turf steak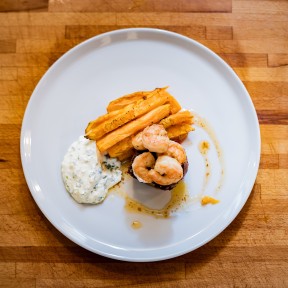 Duration: 3 hour
Number: 10 person
Difficulty:
Language: Hungarian
1 person / course = 15.990,-
2 person / course = 27.990,-
Surf and Turf has been on menus for a long time now – since the mid 1960s when it first made its debut. It offers the best of sea and land, fresh prawns and juicy steak, so this is definitely not for the vegetarians.Tasting the flavours of the sea and the earth combined, it does not get better than that.
MENU
Angus steak Ceasar salad
Surf and turf / Grilled tenderloin, shrimp skewer, garlic-lemon dip, grilled vegetables
Brownie, salty caramel sauce
ALLERGEN INFORMATION
Please advice us on any food allergies or intolerance you might have.
DATES
COURSE REMINDER…
Notify me if this course is being published at another time or a place becomes available.