Home made strudels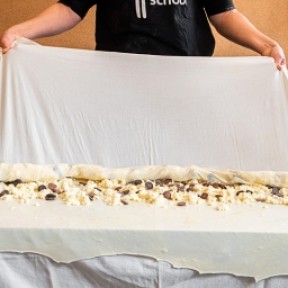 Duration: 3 hour
Number: 8 person
Difficulty level:
Use of ingredients:
Cultural depth:
Language: Hungarian
What is the secret of this translucent and light stretched pastry? Why does it tear? Why doesn't? What is the prefect filling/pastry ratio? On this course we reveal the secret of the home made strudel, this childhood mystery. You will learn the right technique for kneading and stretching, and also to make various fillings. You can enjoy your products fresh and warm on the spot or take them home to your family, they are perfect for breakfast! (That is of course if you can resist to eat up all!)
MENU
Homemade strudel
Apple strudel, filling
Cottage cheese strudel, filling
Poppy seed strudel, filling
Forest fruit strudel, filling
DATES
Unfortunately there are no dates available.
COURSE REMINDER …
Notify me if this course is being published at another time or a place becomes available.