Chicken Curry Asia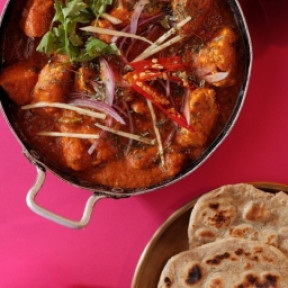 Duration: 3 hour
Number: 10 person
Difficulty level:
Use of ingredients:
Cultural depth:
Language: Hungarian
Chicken Curry - noha részben brit eredetű - sokfele létezik Ázsiában, ahogy azt a mai csirke curry körutazáson is látni fogjuk. Négy nagy ázsiai nemzet négy nagy konyhájában nézünk szét: megtanulunk curry szószt és sűrűséget beállítani, ügyesen használni a fűszereket, összerakni az ízeket – mindezeket különböző csirkehús részekkel. Indiában kezdünk, a dél-indiai Madras városából származó klasszikussal. Majd irány Thaiföld, a thai Green Curry friss zöld curry pasztából készül sok érdekes zöldséggel és kókusztejjel - meglehetősen csipősen. Legdélibb és legegzotikusabb receptünk a száraz és nedves fűszerekből készülő indonéz curry, a Kare Ayam. Legvégül pedig Japán Kare Raisu jön, ami kevésbé fűszeres, zöldséges és sűrű alaplével készül. Finom rizsköretek, piták és hűsítő italok kísérik a curry-sztorizást.
MENU
Chicken Madras curry
Thai green curry with chicken
Kare ayam / Indonesian chicken curry
Kare raisu / Japanese chicken curry
DATES
IF THE DATE IS NOT SUITABLE …
Notify me if this course is being published at another time or a place becomes available.
HASHTAGIFY